The Trappes Hospital on track to reduce the risk of nosocomial infections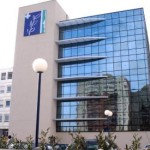 In line with the current desire to reduce the risks linked to nosocomial infections and since becoming aware of the extra cost due to additional treatments is becoming more and more important, the surgeons of the Trappes Hospital west of Paris have turned to HEXIS. Indeed the hospital will initially protect two out of thirteen surgical wards. GSDI, a European specialist for the application of self-adhesive films, will be in charge of the installation of Hexis Health films on floors, walls furniture and the touch screens of medical equipment.
While the statutory sampling and checks for the presence of bacteria in the hospital wards will continue, a comparison between the two protected wards and the eleven others will be drawn up.